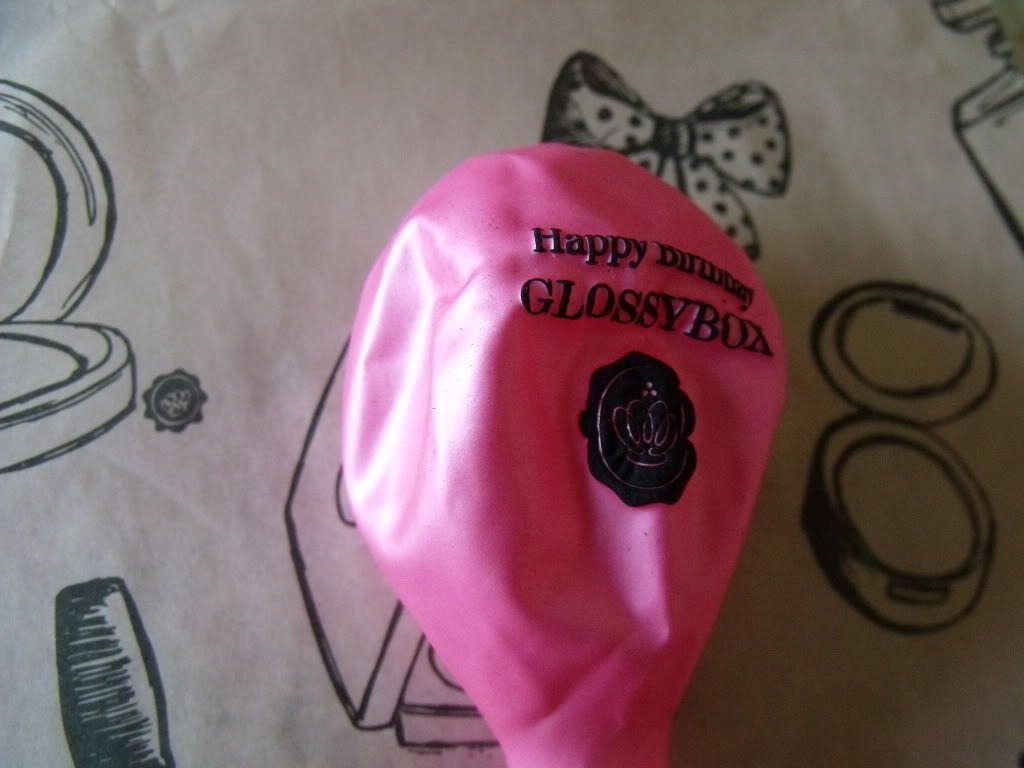 Featuring: Noble Isle Summer Rising bath & shower gel in Cornish Hedgerows, Lolita Lempicka L'Eau en Blanc & Eau de Parfum, Neal's Yard Remedies Rehydrating Rose Daily Moisturiser, Collection (2000) Lasting Colour Gel Eyeliner in Gold, Eldora false eyelashes, plus a Glossybox compact mirror and a birthday balloon!
How lovely is the wrapping paper?! Considering putting in a frame for my wall. This is Glossybox's One year anniversary box and for me, it contained some lovely items! The stand out products for me are the lashes (amazing!!), shower gel (which smells divine), the added extra in the form of a compact mirror and the rose scented moisturiser. I can see myself getting a lot of use out of those particular items :)
The eyeliner is a little bit odd, it's not quite gold enough for my personal preference, but I can see it working as an eyeshadow or even a highlighter if used sparingly and blended well. It was so nice to receive a makeup item! The perfume samples were also rather nice, but neither of mine were full, one was only a quarter full, so I will have to use it sparingly which is a little annoying. But that's the only gripe I really have with this box, I felt I got my money's worth this month and I love the new products I've discovered through it! I have never tried a Neal's Yard Remedy before, so I'm looking forward to using this one and seeing if it's for me.
Isn't this weather amazing, although I have to say I don't really cope well in the heat, I'm much more of a winter person! I'm off to Dorset this weekend to hopefully have some sunny adventures with Adam, plus I might have bought a few cheeky purchases to show on here... ;) and I get paid on Saturday! Trip to Topshop maybe? Or do I investigate the possibility of the AA Disco pants a little more...hmmm decisions!
X.